March 22, 2018
50+ Biographies for Children – North America
This post lists 22 Biographies written with young readers as the target audience. The main characters in these non-fiction books were born in North America. Maybe because I am selecting books written in English in the U.S., most of the biographies I encountered in the local libraries are about American people, so this list is divided into subcategories. The images of book covers are linked to outside sources with further information. All the book descriptions give you an idea of age recommendations and the texts' Lexile measures.
Canada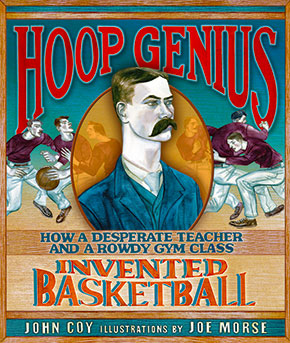 Hoop Genius: How a desperate teacher and a rowdy gym class invented basketball, by John Coy, illustrated by Joe Morse
Lexile measure: 880L
Grade interest: K-3
Setting:
Cultural group: Canadian men
Simple and easy to read, this book can be used in an integrated unit of literacy and physical education. Canadian gym teacher James Naismith invented basketball when no one else wanted to teach a group of rowdy students. In 1931, after various attempts to engage his gym class in something active yet not dangerous, Naismith drafted a series of rules and posted them on the bulletin board. Soon, his new game became a sensation and young people all over the world wanted to play it.
African-Americans
Farmer Will Allen and the Growing Table, by Jacqueline Briggs Martin, illustrated by Eric-Shabazz Larkin
Lexile measure:
Grade interest:
Setting: Milwaukee
Cultural Group: African Americans / Urban farmers
Will Allen grew up on a farm in Maryland. As soon as he could, he left the fields to go play basketball abroad. There, he realized that he actually loved growing food. Back to the U.S., Will looked for opportunities to have his own land and to grow enough food to feed a crowd. After years of hard work, he established his urban farm – The Growing Power. His work has now extrapolated the boundaries of the country and he has taught people all over the world about how to grow their own farms in any space. This book is a great motivator for a science instructional unit.
Henry Aaron's Dream, by Matt Tavares
Lexile Measure: 920L
Grade interest: K-5
Setting: USA, 1950s-1070s
Cultural group: African-American
Matt Tavares recounts the trajectory of Henry Aaron as an African American baseball player in the times of the Civil Rights Movement. Aaron had to overcome racial prejudice and segregation laws that prevented him from playing with white players. Besides telling Aaron's biography, Matt Tavares includes in his narrative historical events that changed the country. This is a good resource for an integrated unit in literacy, sports, and social studies.
Lexile Measure: 730L
Grade interest: 1-4
Setting: Chatran County, North Carolina,
Cultural group: African-American
The author and illustrator Don Tate does a beautiful job recounting the story of George Moses Horton. Horton was a slave in North Carolina in the 1800s, but his poems and music set him free. Before he could read and write, he memorized and recited his poems, and he became known by the students at the University of North Carolina at Chapel Hill. They paid him with money, clothes, and other goods. Soon, one of the students taught George how to read and his poems were published in newspapers. George even published a book and received support from influential people before he could be free from slavery. The Poet was sixty-six when the Emancipation Proclamation was signed by President Abraham Lincoln.
Lexile measure: 820L
Grade interest: 3-5
Setting: U.S.A.
Cultural Group: African Americans
The book tells the story of Lonnie Johnson, a young inventor who did not stop chasing his dreams. Johnson received a lot of rejections before his inventions finally became popular. He was also a NASA engineer, but that is just part of the story. This book could lead to a creative unit in STEM areas.
Lexile Measure: 720L
Grade interest: K-5
Setting: Birmingham, Alabama
Cultural group: African Americans
This is the story of the youngest Civil Rights activist arrested in the Children's March in 1963. Audrey Faye Hendricks was nine years old when she was taking to jail. All she wanted was to eat her ice cream inside Newberry's and drink fresh water from a clean water fountain.
Lexile measure: 670L
Grade interest: K-3
Setting: Alabama
Cultural group: African-Americans
John Lewis is a well known public figure in America. He was one of the leaders of the Civil Rights Movement in the 1960s. However, this book tells another side of his story. As a young boy, Lewis took care of the chickens on his family's farm. He loved them and knew them by name. He dreamed that one day he would become a preacher, so he memorized the scriptures and practiced his sermons preaching to his chickens.
Before She Was Harriet, by Lesa Cline-Ransome, illustrated by James E. Ransome
Lexile measure: NP (non-prose books are not classified in Lexile measures)
Grade interest: K-2
Setting: U.S.A.
Cultural Group: African American
The author used a poet style to describe the life of Harriet Tubman, the civil rights activist. The story is told backward, going back to the roles Harriet played within her family, her community, and in her country. It goes back to the time when she was Araminta Ross, an enslaved girl who dream about freedom. This is an interesting book to bridge into a social studies lesson about suffrage, slavery, and American history.
Native-Americans
Lexile Measure: 1010L
Grade interest: 3-5
Setting: Great Basin, Nevada, USA
Cultural group: Native Americans
The author gives a detailed account of the life of Thocmetony, also known as Sarah Winnemucca, from the Paiute nation. Sarah was an activist, educator, and warrior for Native Americans rights. She was also the first Native American to publish a book. Thocmetony was born in 1844 and from an early age, she learned English and Spanish, as well as her people's language. She also learned how to navigate the native tribes and the white-men world seamlessly. This book could lead to a History and a Geography unit about the Native Americans in the Nevada area.
Lexile measure: AD620L
Grade interest: 3-5
Setting: Tennessee
Cultural group: Native Americans
This bilingual book is written in English and in Cherokee. Between legends and historical documents, the author crafted the story of Sequoyah, the extraordinary native American man who developed a writing system to register Cherokee culture. Only a handful of people around the world and over the centuries have been able to create a writing system. Sequoyah was born in Tennessee in the second half of the eighteenth century, and he became an important character in American history due to his deeds. This book can lead into an interesting unit about world languages and social studies.
Sitting Bull: Lakota Warrior and Defender of his People, by S.D. Nelson
Lexile measure: 860L
Grade interest: 3-7
Setting: North and South Dakotas
Cultural group: Native-Americans
With the narrative written in the first person, the author borrows Sitting Bull's voice to introduce the historical events taking place in the 19th century. The book is beautifully illustrated with drawings and photographs that tell the story of Sioux groups in the contentious time of white westward expansion. The author's detailed notes indicate that he did a diligent research for his writing. This book is a great resource for a middle-school integrated unit in Social Studies and critical literacy.
Hiawatha and the Peacemaker, by Robbie Robertson, illustrated by David Shannon
Lexile measure: AD740L
Grade interest: K-3
Setting: Upper New York State (in today's U.S. territory), Ontario and Quebec (in today's Canada).
Cultural group: Native Americans – Cayugas, Senecas, Oneidas, Mohawks, and Onondagas.
The book tells the story of the Peacemaker Deganawida and his disciple Hiawatha. Together, they proclaimed a great law of peace among Indian nations in the North Country before Europeans reached what we know today as North America. The way the story is told, it resembles the Biblical stories of Moses and his brother Aaron. Apparently, the Peacemaker was a religious leader and had a speech disorder (much like Moses), and he used Hiawatha as his spokesman (just like Aaron). The enemy of the Iroquois nations, Tadodaho, is depicted as a demon who is healed by the Peacemaker and made into a keeper of the nations' peace. It is said that the government style of the Five Iroquois Nations influenced the American constitution.
Americans of diverse ethnicities
Lexile measure: 940L
Grade interested: 1-4
Setting: California's Sierra Nevada mountains
Cultural group: Chinese-American
This book is a winner of the Carter G. Woodson Book Award granted by the National Council for the Social Studies. It tells the story of Tie Sing, a Chinese-American cook born in Nevada sometime around the 1970s. Very little is known about Tie Sing, but he is part of American national parks history and has a peak named after him – the Sing Peak in the Yosemite National Park. Sing was born and grew up in America, at a time when there were severe restrictions toward Chinese people. Sing was a hard-working man and is honored for his patriotism and planning skills. The author and illustrator did an excellent work bring historical accounts into the pages of this book. Make sure to read the final pages (36-40) with your students for more information.
Lexile Measure: 710L
Grade interest: K-4 (although I think middle-schoolers would be interested in the Choi's story and in the book illustrations
Setting: the streets of Los Angeles, California
Cultural group: Korean-American
This is a part of the Junior Library Guild Selection. Martin and Lee tell the turbulent story of Roy Choi from his childhood until he became a renowned street cook in California. Roy was born in Seoul, Korea, but moved to Los Angeles with his family when he was two. He grew up on the streets and in his mother's kitchen. Now, he owns and cooks in restaurants he idealized, serving a remix of Korean, Mexican, and American food. He dreams about "remix[ing] neighborhoods everywhere with hope" by creating more jobs where the fancy chefs do not want to go. This bright and colorful book illustrated in graffiti style is sprinkled with Korean words and information about Roy's Korean cooking culture.
Lexile Measure: AD880L
Grade interest: K-3
Setting: California, U.S.A.
Cultural group: Hispanic Americans
The author tells the story of Cesar Chavez and his pacific march throughout California to raise awareness of the work conditions in the farms. Chavez was born in Arizona to a Mexican-American family but was forced to move to California with his family when the drought ruined his father's ranch. Chavez was a Latino civil rights activist and created the National Farm Workers Association. With the initial support of 150 people, he led farmworkers into a strike, and at the end of his march which gathered ten thousand people, he signed the first contract for farmworkers in American history.
American women
Lexile measure: 750L
Grade interest: K-3
Setting: Michigan, the U.S.A.
Cultural group: American women / scientists
Marie Tharp was not only a pioneer female scientist. She was also the first person to map the ocean floor. Her father made maps, and Marie loved maps too. She traveled with him and, for her, maps were like giant puzzles. The story in this book is told in the first person, in the voice of young Marie. Her work is groundbreaking and this book introduces it in a way that young readers will understand it. This text is recommended for an integrated unit in sciences.
Lexile measure: AD720L
Grade interest: K-3
Setting: Maine and Massachusetts, the U.S.A.
Cultural group: American women / inventors
Margareth Knight lived in the years of industrial revolution, when the world of inventions boomed but women were considered less intelligent and capable than men. Mattie worked hard and proved that she could be a professional inventor too. This book can be a fun read aloud in a STEM unit and young girls will have a blast learning about marvelous Mattie.
Lexile measure: not available at this time
Grade interest: K-2
Setting: the U.S.A.
Cultural group: American women
About the book: In this fantastic story, author Jenny Sue Kostecki-Shaw narrates the protest of environmental activist Julia Butterfly Hill to protect the redwood trees. This is an interesting resource to integrate literacy, sciences and social studies. The book was printed on paper from responsible FSC-certified sources and part of the author's proceeds will be donated to Sanctuary Forest.
Lexile measure: 880L
Grade interest: K-3
Setting: Alabama and New York, U.S.A.
Cultural group: American women
The book tells the story of young Nelle Harper Lee and how she found her call to be a writer. Nelle was born and raised in a small town in Alabama during the Great Depression. Many years later, and with the support of her friends in New York, she published the bestseller To Kill a Mockingbird. This biography written for young readers can serve as a lead into a unit about Harper Lee's famous book.
Teaching guide: the publisher's website offers a teaching guide and more information about the author.
Dreaming with Animals: Anna Hyatt Huntington and Brookgreen Gardens, by L.Kerr Dunn, illustrated by Monica Wyrick
Lexile measure: not available
Grade interest: K-5
Setting: U.S.A.
Cultural group: American women
This beautifully illustrated book can be used to incorporate literacy in Arts classes. It tells the story of Anna Hyatt Huntington and her sculptures. Her art can be visited and appreciated in the Charleston Museum, the Gibbs Museum, and in her Brookgreen Gardens in South Carolina. The 32-page book is organized into ten chapters, which can be used as a read aloud.
American man with disabilities
Not So Different: What you really want to ask about having a disability, by Shane Burcaw, with photographs by Matt Carr
Lexile measure: 860
Grade interest: 1-4
Setting: the U.S.A. (not mentioned in the book)
Cultural group: young people with a physical disability
In a light tone, Shane Burcaw answers some frequently asked questions about his physical disability. He was born with Spinal Muscular Atrophy (SMA) and his muscles are deteriorating as he gets older. In the book, Shane shows how his life is not too different from everyone else, and with his family's support, he can be as active as everybody else. He and his cousin have a non-profit organization to raise awareness about positivity in spite of adversity – Laughing at my Nightmare, and they travel the country making presentations and raising funds to help kids with SMA.
And more…